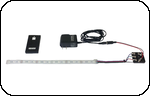 Complete pre-wired kit to get started displaying RGB colors today. This kit includes everything needed to get started with color light displays. The kit includes:


AC Plug-in ready. Setup a color display using RGB Controller Software which is available for FREE download. Program the 9252 RGB controller block using the infrared remote, model 9211, all included in the starter kit.

Low density and longer LED strips are available in lengths up to 16 feet. Please call for pricing and availability.
1
$
99.00
5
$
86.00
10
$
81.00
50
$
70.00
100
$
66.00