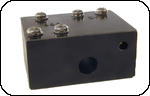 Phenix Controls provides a full line of industrial current sensors. All current sensors are encapsulated to protect from industrial environments. In addition, monitored current lines are electrically isolated from current sensors.

You can search our current sensors by first selecting either one or three phase, then search the chart for the operating voltage(the power for the unit to function). Some current sensors require a fixed voltage (120VAC, 5VDC, etc.), others function within a voltage range (i.e. 3 VDC - 36 VDC).

Some current sensor models are stocked and are designed for general industrial needs, others are designed for specific applications. For the models below call for availability. We have the ability to engineer a current sensor for your industrial need or specific application. Please contact us with questions.
Single and Three Phase
AC and DC Operating Voltages
Sense High and Low Current
Variety of Sensing Ranges
Variety of Package Sizes
Low Cost
Variety of Output Types