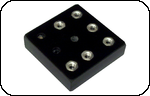 Model 9252 is a 12 VDC 6A programmable RGB LED driver. Designed to withstand rugged environments, the 9252 can store up to 20 color transitions. The amount of time between each color is programmable from 1 ms to 135 minutes. The colors are displayed in sequence and the sequence is automatically repeated. Each color in the sequence can be set to smoothly transition to the next color or hold solid for the entire duration.

An optional switch input allows the 9252 to select between two color sequences creating unique color effects. For example, fade between colors when the input is switched and flash otherwise.

Phenix programmable devices internal memory is set using our infrared remote system. First, define the colors and duration of each color using our FREE PC software, RGB Controller Software. Then, the settings are transfered from the software to a Phenix remote, model 9211. The remote can then transfer the settings to any number of RGB controllers. The program is transfered using infrared sensors, completely isolating the programmer to prevent electric shock.
Sequential color display
Fade or flash per color
16 million color addressing
Store up to 20 colors
1 ms to 135 minutes interval per color
Optional switch input for two color sequences
1
$
25.00
5
$
22.00
10
$
21.00
50
$
18.00
100
$
17.00