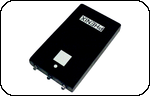 !OBSOLETE! see 9245

Model 9211 is an infrared remote programmer. The remote reads encoded data from the computer screen and then transfer the data to Phenix infrared devices.

To send data to a Phenix infrared device, hold the center of the remote over the infrared input of the device and press the touch pad on the remote. A red light will active on the remote while the data is being transfered. Once the data has been sent, the right light will blink rapidly.

To read data from the computer screen, awake the remote from power save mode by pressing the touch pad. The remote will pulse the red light every 3 seconds to indicate that the remote is ready to receive data. The remote will stay in this mode for 3 minutes. While in this mode, hold the remote up to the computer screen, positioning the remote so that the center lies between the white and black boxes. Click on the program button in the PC application. The white and black boxes will begin to alternate and the red light on the remote will activate. After the program has been successfully sent, the red light will blink rapidly. If the red light does not blink at the end of a transmission, an error occurred during the transfer and the data in the remote is not valid.
1
$
125.00
5
$
109.00
10
$
102.00
50
$
89.00
100
$
83.00