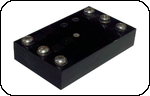 Model 9261 is a DC motor controller timer with current sensing. Control forward and reverse motion of a DC motor over programmable time intervals. The optional internal current sensor detects when the motor has reached a settable load. Activate the programmed time sequence when the device is powered or one of the two inputs is activated.

Model 9261 is fully programmable, set the interval of time the motor runs in forward, reverse, or idle. The internal current sensing can stop or change direction when a programmed limit is reached. Store up to 24 intervals with a minimum time interval of 100 ms. The intervals are ordered, providing motor control logic to fit almost any application.

Phenix programmable devices internal memory is set using our infrared remote system. First, define the behavior of the motor controller using our FREE PC software. Then, the settings are transfered from the software to a Phenix remote. The remote can then transfer the settings to any number of motor controllers. The program is transfered using infrared sensors, completely isolating the programmer to prevent electric shock.
1
$
30.00
5
$
26.00
10
$
25.00
50
$
22.00
100
$
20.00